Aerial platform rental - Edocar Service S.r.l. - Brescia
Aerial platform and forklift rental - Brescia - Bergamo
The Edocar rental service was designed for companies faced with work requirements without having to purchase the necessary vehicle.
The rental is the most beneficial and effective solutions to meet any need; Edocar Noleggio offers short and long term rental solutions.
Edocar Rental offers a rental service of aerial platforms and lifting machines in Brescia, Bergamo, Cremona and Milan at extremely competitive prices. We serve all of northern Italy. We are leaders in Lombardy.
The rental of any type of machine such as aerial platforms, truck-mounted platforms, electric vertical, vertical diesel, telehandlers, trucks, crane trucks, forklift trucks, electric power steering trucks and pallet trucks, warehouse trucks, mini-excavators and related accessories.
There are many more reasons to rent a platform or a lifting machine than to buy it. Through the rental you can choose, from time to time, the most advanced machine for the work to be performed, which is the most productive, without spending more money you actually need to perform a specific work.
Why choose our fleet? The best brands, the most advanced technology.
Edocar Rental always performs a machine control before their delivery and upon their return to the workshop.
Edocar Rental also offers a service of technical assistance not only in the workshop, but also with mobile workshops. We ensure timely interventions, through internal staff, specially trained and constantly updated.
Furthermore, Edocar supports its rental service with an efficient, prompt transport and delivery service on the building site.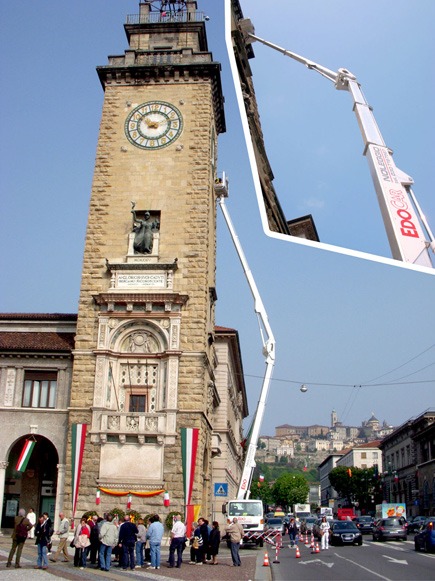 Why to choose the rental?
The advantages of renting
To have immediately available the ideal vehicle for every work of the moment;
Safely work with modern and efficient vehicles;
Spend the minimum required to perform the work;
Avoid heavy investment of your capital;
Optimize fiscal management as 100% deductible;
Eliminate the cost of maintenance, repair and management of vehicles;
Know in advance the sure cost for the conclusion of your offers;
The possibility to try a vehicle in view of a purchase;
On site direct delivery.

Edocar Service S.r.l. video presentation
Aerial platform and forklift rental - Brescia - Bergamo